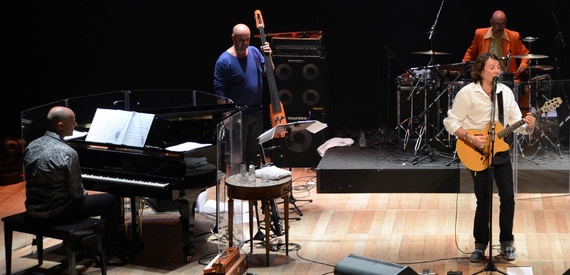 by Chris McGowan
(published July 18, 2014 in The Huffington Post)
The Maurício de Nassau bridge in Recife is a replica of a bridge in Amsterdam and a reminder of when Holland ruled northeastern Brazil in the early 17th century. It is also the inspiration for "The Bridge" concert series featuring Brazilian singer-songwriter Lenine and Holland's Martin Fondse Orchestra. After having toured Europe and the Americas, the show will arrive at Central Park's Summerstage Festival in New York on July 19th.
For Lenine, crossing the bridge is a metaphor for leaving one's proverbial island, connecting with others, and broadening one's horizons, which he explored in the song "The Bridge" on his album
O Dia Em Que Faremos Contato
(The Day We Make Contact). Lenine's songs span various musical islands and are difficult to categorize. He is at the vanguard of Brazilian rock and pop and is also an heir to the great eclectic tradition of post-bossa nova artists like Gilberto Gil, Djavan and Milton Nascimento, who established their careers in the 1960s and '70s. For Brazilian music fans that aren't fond of the
sertanejo, funk carioca
and romantic samba that currently dominate the pop charts in that country, Lenine's music is a welcome continuation of the work of the "MPB" generation of songwriters like Gil and Nascimento who like to blend strong melodies with rich harmonies, unexpected fusions and poetic lyrics.
Lenine's polyglot songs seamlessly weave together rock, digital effects and the rhythms, instruments and poetic inflections of his hometown Recife. He shifts between being a lyrical, reflective troubadour and a rocker who vigorously plucks and strums an acoustic guitar, seeking a "dirty sound" full of overtones and syncopation. With the guitar, Lenine has invented a rousing funky beat that defies boundaries. Sometimes, Lenine veers into
mangue beat
territory with aggressive songs that mix electronic effects with strains of northeastern genres like
maracatu
and
embolada
. He may mix samples and filters with gentler folk styles. And he can evoke Peter Gabriel with soulful vocals, driving rhythms and big bass lines reminiscent of Tony Levin's work. While Lenine carries Recife within him, he is a musical gypsy, at home in the Northeast, in Rio de Janeiro, and in foreign lands.
All the while, his lyrics are full of humanitarian sentiments and a romantic futurism informed by authors like Ray Bradbury. His words reference both contemporary reality in Brazil and images from science fiction. Lenine is a prolific songwriter whose work has been recorded by many leading Brazilian artists, a performer who frequently appears on others' recordings, and an in-demand arranger and producer. His own albums, which he toils on for long periods, appear about every two to four years. He is a musician's musician in Brazil and considers himself a craftsman. He is as popular in France as in Brazil and has appeared at WOMAD and many other festivals in Europe. And he has won five Latin Grammy awards.
Oswaldo Lenine Macedo Pimental was born in 1959 and grew up in Recife, the capital of Pernambuco, which is noted for many musical and cultural traditions. He was named in honor of Vladimir Lenin as his father José Geraldo Pimentel was a devoted communist who idolized the Russian revolutionary leader. José liked to stay at home listening to music rather than attending Catholic mass with his wife, and Lenine hung out with his father on Sundays and listened to Brazilian music, jazz and classical. He also absorbed Recife's own diverse local music and—during his adolescence — heavy doses of Led Zeppelin and prog rock, Frank Zappa, and the talented musicians connected to Milton Nascimento nicknamed the Clube da Esquina (Corner Club) — and he was on his way to becoming the singular musician that he is today.
The aforementioned
O Dia Que Faremos Contato
(1997) was a major step in Lenine's evolution and earned him a Prémio Sharp award in Brazil for best New MPB Artist. He also won the award for Best MPB Song for "A Ponte" (The Bridge), written with Lula Queiroga, which sets his poetry against swirls of electronic noise, contains samples of repentistas Caju and Castanha, and features a stormy chorus ("Nagô, Nagô...") backed by distorted power chords on electric guitar. By contrast, "O Marco Marciano" (The Martian Landmark) is a contemplative tune in which Lenine doubles his falsetto eerily over a ten-string viola (a type of steel-string guitar that is a mainstay of
cantoria
and
música caipira
). The lyrics evoke Ray Bradbury's novel
The Martian Chronicles
, as Lenine sings of a "history of Mars buried by the ephemeral dust from storms" and a "Martian landmark with a person's face, with the ruins of streets and cities" visible from the moons Phobos and Deimos. Throughout the album, Lenine mixes rock and pop with strains of
coco
, embolada, maracatu,
aboio
and various audio effects.
Julieta Venegas and Lenine
Na Pressão
(Under Pressure) in 1999, produced by Tom Capone and Lenine, was another strong effort, selected by André Domingues in his book
Os 100 Melhores CDs da MPB
(The 100 Best MPB CDs). Naná Vasconcelos, a venerable figure in modern jazz who is also from Recife, supplies most of the percussion on the album. On the title track, his talking drum, bombo turco and caxixi back Lenine's ten-string viola, which creates a northeastern mood that turns edgy and dramatic. The reflective "Paciência" (Patience) is one of Lenine's most beautiful songs, and "Relampiando" (Lightning Striking) is a touching piece of social criticism. "Jack Soul Brasileiro" is a rhythmic tour de force, a primer in syncopation that fuses various elements. A few seconds of maracatu rural drumming open the song, and then Lenine strums his trademark funky groove on guitar and adds incredibly rhythmic singing that summons the tongue twisting wordplay of embolada. A version with a fuller arrangement is available on his
Acústico MTV
album.
Lenine (left) and Cristina Braga (right)
Falange Canibal
in 2001, continued Lenine's fusion of the acoustic and the electronic, and won the Latin Grammy Award for Best Brazilian Contemporary Pop Album.
Falange Canibal
had more guest artists than any of his previous albums, including composer-keyboardist Eumir Deodato, members of the O Rappa and Skank bands, Frejat (of Barão Vermelho), singer-songwriter Ani DiFranco, trombonist Steve Turre, and drummer Will Calhoun and guitarist Vernon Reid from Living Colour. Lenine's subsequent albums, such as
Lenine InCité, Lenine Acústico MTV
, and
Labiata
have won further awards. Yet such success did not lead Lenine to become a more commercial artist. Rather, in 2011, he released
Chão
(Ground), a beautiful, mellow, minimal album that has no percussion and incorporates ambient sounds from birdcalls to teakettles to typewriters to footsteps on gravel to heartbeats. Certainly, Lenine is taking Brazilian popular music across his metaphorical "bridge" to new horizons.
Martin Fondse (left) and Lenine (right).
Band leader Martin Fondse, who leads the orchestra appearing with Lenine, is a Dutch pianist and composer who has won awards for his orchestral work and film scores. His work mixes jazz and many other musical styles, and he has collaborated with Peter Erskine, Terry Bozzio, George Duke, Vernon Reid and Pat Metheny, among others.
There is an extended profile of Lenine and interview with him in my book The Brazilian Music Book: Brazil's Singers, Songwriters, and Musicians Tell the Story of Bossa Nova, MPB, and Brazilian Jazz and Pop.
_______